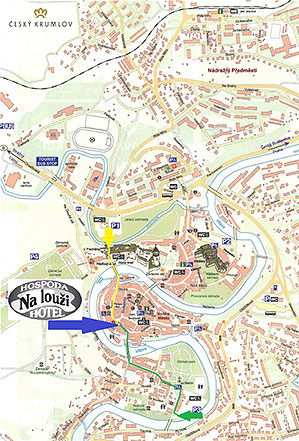 How to find us?
Hotel Na louži is located in the historical center of Český Krumlov very close to the main square. It is about 10minutes walk from the bus station. Train station is fairly long distance away, approximately 30 minutes, so in case you come with heavy luggage we recommend using taxi služby. To find our about bus and train schedules click here www.idos.cz.
In the historical center of the city there is a pedestrian zone where entry and parking are prohibited (it is possible only for special permission of the city office).
In close proximity to the city center, the city's parking system provides parking places for passenger cars on parking lots (P1-P3), which can be parked for up to 40 minutes free of charge. In addition, visitors with cars can also use parking spaces on local roads with parking vending machines, which are only suitable for short stays of up to 90 minutes. Upon arrival in the city, we recommend that you park directly on one of the parking lots. There are parking P1 (yellow route) or P3 (green route), which are closest to the hotel, about 5 minutes walk. These are public paid parking spaces.
Parking is not included in the price, but we offer to our guests a daily prepaid parking card for these car parks at a price of 250, -CZK / 24 hours.
Click on the map to enlarge.